La 1° community di intelligenza mestruale con prodotti per la ciclicità femminile
We live in a cycle and it's time to celebrate it.
It's always a good period. Period.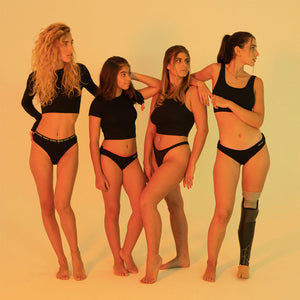 CHI É FLUYDA?
Siamo la 1° community dedicata all'intelligenza mestruale e il 1° sito che propone prodotti innovativi ed ecosostenibili a tutte le persone che mestruano. Sceglierci vuol dire far parte di una community libera e che vuole superare il tabù sul ciclo mestruale e vivere le mestruazioni come momento intimo e di amore per se stessi e per il pianeta.
Le mestruazioni sono infatti solo il momento più visibile di un processo perpetuo che trasforma il nostro corpo e la nostra mente durante tutta la nostra vita.
Per questo motivo Fluyda ha realizzato una serie di prodotti innovativi, dedicati a tutte le persone mestruanti, per prendersi cura di sé durante il ciclo, in ogni sua fase. Mutande assorbenti, coppette mestruali e integratori: tutto quello di cui hai bisogno per vivere il ciclo in piena armonia con te stessə e con il pianeta.
Scopri di più
Prodotti per il flusso durante il ciclo mestruale
Nel nostro shop online sono presenti prodotti studiati e realizzati con amore e con il supporto di professionisti e della nostra community, appositamente per il corpo di chi mestrua: mutandine assorbenti, coppette mestruali ed integratori. Questi prodotti vi permetteranno di vivere il ciclo mestruale nel giusto comfort, sicuro per la vostra salute e nel rispetto dell'ambiente che ci circonda. Le nostre mutandine assorbenti sono frutto di innovazione, di ricerche e test accurati. Utilizzando le nostre coppette e indossando le mutandine assorbenti di Fluyda, entrerai a far parte di uno dei movimenti più rivoluzionari del momento: tantissime persone, infatti, stanno scegliendo soluzioni più sostenibili sia per il proprio benessere che per rispettare il pianeta terra.
ASSISTANCE WITH MENSTRUAL EDUCATRICE
PRODUCTION IN SUPPORT OF UKRAINE