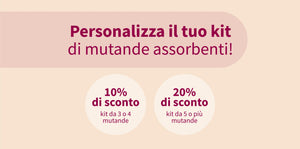 Kit Mutande Assorbenti
Con i pack personalizzabili di Fluyda sei liber* di scegliere i modelli, taglie e colori di mutande più adatti al tuo flusso mestruale e alle tue preferenze. In più, ti aiutiamo a risparmiare e ti diamo uno sconto che aumenta con il numero di mutande acquistate.
Please wait for a few seconds on the checkout page so the products can be loaded into your cart.
{buildrule.selectedOptionValues = selectedOptionValues; applyToAll()}">
[[ $t('message.noteHeader') ]]
* [[ $t('message.required') ]]